NO WIN NO FEE
'No win no fee' means if your claim is unsuccessful, you don't pay a penny.
Legal Link Scotland Ltd operates on a No Win No Fee basis, meaning that no fees are applicable to the Firm on an unsuccessful claim.
On a successful claim Legal Link Scotland Ltd will be paid out of compensation the following amount:
£400 plus VAT of your compensation whereby the claim(s) settles at £2500 or under.
25% plus VAT of your compensation whereby the claim(s) settles above £2500.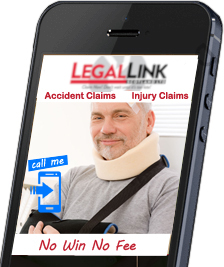 No win no fee means that if you do not win your claim, you do not have to pay your solicitor a fee. Insurance will cover you against the other side's costs and expenses. Your solicitor's costs should be paid by the other side.
No Win No Fee arrangements (or Conditional Fee Arrangements; CFAs) take the risk out of making an accident claim. There are no upfront fees, no hidden costs, and you will never be left out of pocket
However if you decide to cancel after  14 days OR if the claim is fraudulent then you could be liable to pay £400 plus VAT for our services and in addition the nominated solicitors fee which could vary dependent on the work carried out / time spent. (At a rate of £220+VAT per hour
You're in safe hands.
Unlike many other claims management companies and Solicitors who charge a very high percentage (upto 50% in some cases) out of the settlement at Legal Link Scotland we work with our solicitor firms to ensure that we continue to provide a no win no fee service and that claimants keep as much of their compensation as possible.
With Legal Link Scotland you can expect:
A No Win No Fee service
No costs for you to pay during your claim
No risk of paying the other side's costs
No hidden costs
No risk and nothing to pay if your claim is unsuccessful
Specialists in Personal injury claims for over 10 years
Successfully helping people claim thousands of pounds of compensation. Network of specialist solicitors.
Team of Expert Friendly Advisor
With our highly experienced staff and a network of specialist personal injury solicitors will walk through every step with you.
Hassle Free Claims Process
Our aim is to simplify and speed up the process. Our expert advisors will keep you fully informed every step of the way.
Home Visits Arranged
We will meet you at your home or at a time and place convenient to you.
Claims Settled in Record Time
Our aim is to settle all whiplash claims within 6 months.
We are striving for best customer service
CLIENT TESTIMONIALS
I'm so glad I contacted Legal Link Scotland (LLS). They made my life easy after a car accident I had. I received so many calls after the accident it was so stressful. LLS made it so simple and fast, they even came out to see me to explain the whole process. And fill in all the paperwork. I was so happy with the compensation I received. If you ever need to claim don't look anywhere else contact LLS.
I am an OAP I had an accident on a bus. I suffered serious injuries they were life changing and traumatic. I did not know anything about claiming and I was very reluctant to provide any details to anyone especially over the phone.  I met a claims advisor from Legal Link Scotland (LLS) who quite simply held my hand and guided me through the process. I was so pleased with the outcome and the fact they kept me updated throughout the process. I will recommend LLS to anyone who gets involved in an accident.